January 23, 2023
https://holt.4j.lane.edu/index.php/holt-quick-news-01-23-2023/
School Hours
7:55-2:25 (Mon-Thurs)
7:55-1:10 (Friday)
Doors open at 7:50
Parent Education Series – School to Heart to Home – Conscious Discipline Parent Nights, TUESDAY
Being a parent is a hard job! At times, our emotions get in the way of our ability to access our own parenting brilliance. Wouldn't it be nice to respond to conflict with rational thinking and problem-solving? Join us as we learn to regulate our emotions and stop reacting out of impulse or tradition, so we can help our kids regulate their own emotions and reactions to every-day events and challenges.
How Do I Sign Up?
Space is limited – reserve your spot! RSVP to Jenny Potter
REPEAT:  School Choice for the 2023-24 School Year, THURSDAY
Spread the word to all of your friends that HOLT ROCKS! With Holt's focus on the whole child, we are an excellent school and a positive choice for your child's education. With School Choice coming soon, please invite friends and acquaintances to visit Holt and seriously consider joining the Holt family.
We're holding a presentation and tour on Jan. 26th (6:00 PM). It will be offered in-person and on Zoom, though the presentation will be geared toward in-person attendees.
Please watch the 4J website for the upcoming lottery application timeline.
80's Day & Neon Day!!!
Friday, January 27th is the monthly Holt Spirit Day and this time it's 80s Day and Neon Day!
How can you participate in 80's Day & Neon Day?
Wear NEON or BRIGHT colors
Wear 80's Style clothes
Wear school colors
Wear HOLT gear
REPEAT:  Holt Night Out Fundraiser – MOD Pizza, Jan. 31
Tuesday, January 31st is a Holt Night Out Fundraiser at MOD Pizza on Coburg Road!
You can support our fundraiser with takeout, delivery, or pick-up orders. Just bring the MOD Pizza Fundraiser flyer when you order.
To place your order visit MOD Pizza's online order website. Use the coupon code "MODF18241" and 20% of your meal's price will be donated back to Holt Elementary School.
Proposed 2023–24 School Calendar Feedback
Eugene School District 4J wants to hear what you think about the Proposed Calendar for the 2023–24 School Year.
Notably, school would start earlier than normal, before the Labor Day weekend, with kindergartners, sixth and ninth graders beginning on Wednesday, August 30, and the remaining grades returning on Thursday, August 31, under the proposal. Thanksgiving break would be extended to three days, from November 22–24. No-school parent-teacher conference days for grades K–8 would occur on November 20–21, with the exact conference schedule varying by school.
Proposed key dates:
• NEW First Day of School: August 30 for grades K, 6 and 9; August 31 for all other grades
• NEW Parent-Teacher Conferences/No School (Grades K–8 only): November 20–21
• NEW Thanksgiving Break: November 22–24
• Winter Break: December 18–January 2
• Spring Break: March 25–29
CLICK HERE to give your feedback.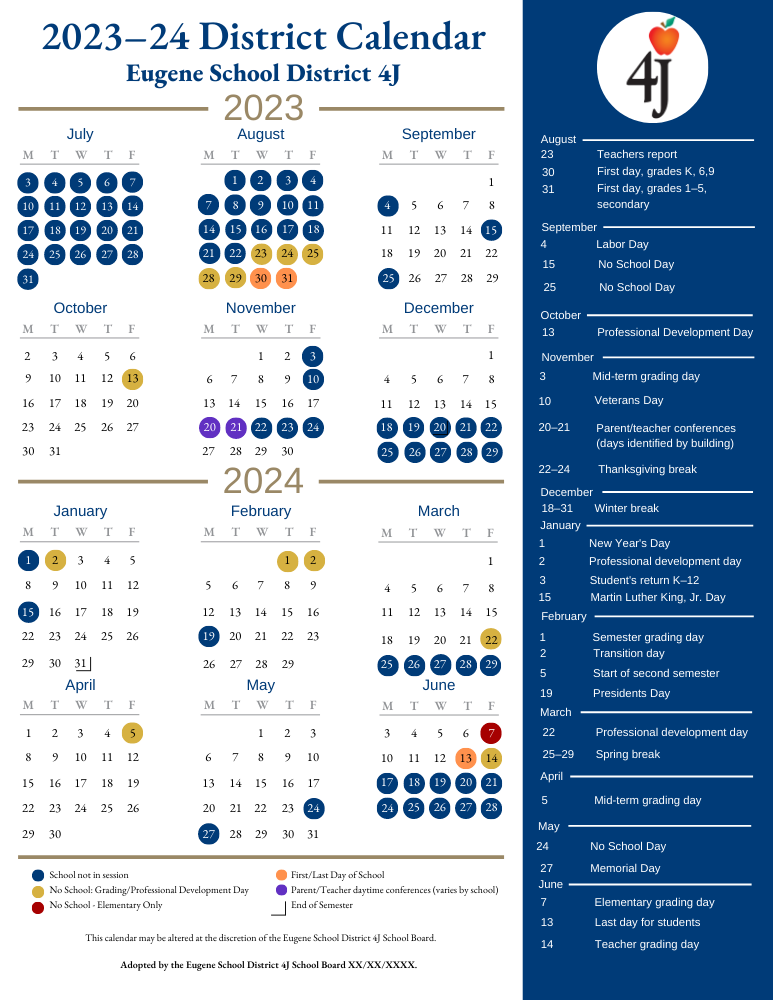 No Crocs at School Please
Crocs are popular again, but they are not safe footwear and we ask parents not to send students to school in them. Concerns include:
They lack arch support – Crocs put extra strain on the plantar fascia, a thick ligament that runs from your heel to the front of your foot. The plantar fascia acts as a shock absorber and supports the arch of your foot.If you often wear shoes that lack arch support, you may eventually develop plantar fasciitis.
They lack heel support – Crocs do not support or control the heel, which can lead to heel pain and tendonitis. The lack of support can make it more difficult to maintain stability and more likely to trip or fall.)
They can cause sweating and irritation – Crocs are made from plastic and although they have drainage holes, the plastic can still make feet sweat, in some cases, leading to irritation and foot conditions (and smelly feet).
Crocs are fine for gardening, doing chores at home, or a trip to the movie theater, but are not recommended for children.
According to Healthline, "Children should wear a more protective shoe since they can easily injure themselves if they wear Crocs while running around. Crocs do not have what is required to control the heel, support the arch, and maintain stability."
Report COVID Positive Cases to Office
Families should continue to notify Holt office staff if your child tests positive for COVID.
You can leave a message on the attendance line at (541) 790-6111 or call office staff at (541) 790-6100, letting us know when symptoms first started, which determines quarantine dates.
PAHS School Cents Fundraisers TRIPLE POINTS!
Shop, dine, enjoy services or see a movie at Valley River Center, then submit your receipts to help your school earn $200 to $2,500. School Cents runs from October 1, 2022 through March 31, 2023. Schools earn at least five points per dollar spent at Valley River Center. They accept in-store receipts, online with curbside pickup, take-out, delivery or dine-in. Submit receipts at https://shopandlog.com/VRC
EARN TRIPLE POINTS!  Earn extra points when shopping at Bath & Body Works, Body Shop, Cotton On, Elephants Trunk, Fuji Japanese Steak House, Harry Ritchie's, Hot Topic, Panda Express, Round 1 Bowling & Amusement, Texas Road House. Bonus points apply to purchases dated and submitted January 16 – February 28, 2023.
DONATE FOOD TO EARN POINTS  Jan. 19-22: Bring non-perishable items to benefit FOOD for Lane County to the Model Railroad Show. Upload a photo showing your donated items and earn 100 points per item. Up to 250 items per school. Photo(s) must show all items to earn points. Access a form to submit your photo on the School Cents website by 1/31/23.
SUBMIT RECEIPTS AT HOLT OFFICE. Have receipts you'd like PAHS to submit for you? Just drop them off in the School Cents Box in the Holt Front Office.
REPEAT: Be an Educational Assistant Sub at Holt!
Come be part of the Holt Team as a substitute Educational Assistant! Want to help in kindergarten, help at recess duty, or teach small groups? Apply today through the 4J Educational Assistant Substitute Pool! Have questions or want your application expedited? Email principal Allan Chinn at chinn@4j.lane.edu
Breakfast & Lunch Menus
Breakfast and lunch menus are available on the 4J Menu Website.Make sure you filter to Holt Elementary.
Dates to Remember
More dates on the Holt Website on the Family Calendar
1/26, 6:00-7:00, School Choice Presentation & Tour (Library & Zoom)
1/26, 5:45-7:15, Parent Education Series – Conscious Discipline Parent Night (Library)
1/27, Holt Spirit Day – 80's Day/Neon Day
1/31, Holt Night Out Fundraiser – MOD Pizza
2/3, No School – Grading Day
2/9, 5:00-6:00, Site Council Meeting (Library)
2/9, 6:00-7:00, PAHS Meeting (Library)
2/20, No School – President's Day
2/22, 6:30, 4th Grade Expert Project Night (Gym/Cafeteria)
2/23, 6:30, 3rd Grade Cultural Heritage Night (Gym/Cafeteria)
2/28, 5:45-7:15, Parent Education Series – Conscious Discipline Parent Night (Library)
Need a Helping Hand?
Just fill out linked Helping Hand Online Form, the form below, or contact Holt Family Resource Coordinator, Felicia LaCuesta, at lacuesta_f@4j.lane.edu or call her (541)790-6129.
Submit your Valley River Center receipts here: https://shopandlog.com/VRC
---
23 de enero de 2023
https://holt.4j.lane.edu/index.php/holt-quick-news-01-23-2023/
Horas de la escuela
7:55-2:25 (de lunes a jueves)
7: 55-1:10 (viernes)
Las puertas se abren a las 7:50
Serie de Educación para Padres – De la Escuela al Corazón y al Hogar – Noches de Disciplina Consciente para Padres
Ser padre es un trabajo duro. A veces, nuestras emociones se interponen en nuestra capacidad de acceder a nuestra propia brillantez como padres. ¿No sería bueno responder a los conflictos con el pensamiento racional y la resolución de problemas? Únete a nosotros para aprender a regular nuestras emociones y dejar de reaccionar por impulso o tradición, de modo que podamos ayudar a nuestros hijos a regular sus propias emociones y reacciones ante los acontecimientos y retos cotidianos.
Consulte el folleto para más detalles:
El espacio es limitado – ¡reserva tu lugar! RSVP a Jenny Potter 
REPETIR: Elección de centro escolar para el curso 2023-24, JUEVES
¡Haz correr la voz a todos tus amigos de que HOLT ROCKS! Con el enfoque de Holt en el niño en su totalidad, somos una escuela excelente y una opción positiva para la educación de su hijo. Con School Choice próximamente, invite a amigos y conocidos a visitar Holt y considere seriamente unirse a la familia Holt.
El 26 de enero (18:00) celebraremos una presentación y visita. Se ofrecerá en persona y en Zoom, aunque la presentación estará orientada a los asistentes en persona.
Mire el sitio web de 4J para conocer el cronograma de la próxima solicitud de lotería.
Join Zoom Meeting
https://4J-lane-edu.zoom.us/j/99968435049?pwd=ZDM2czBBRzFmYWJOVVVaMWdVQWhBUT09
Meeting ID: 999 6843 5049
Passcode: 796245
Día de Espíritu de Holt, 27 de enero
¡¡¡Día de los 80's y Día de Neón!!!
El viernes 27 de enero es el Día del Espíritu de Holt y esta vez es el Día de los 80 y el Día Neón.
¿Cómo puedes participar en el Día de los 80 y el Día Neón?
– Viste colores NEON o BRILLANTES
– Usa ropa de los 80's
– Usa los colores de la escuela
– Usa ropa HOLT
Recaudación de fondos para Holt Night Out – MOD Pizza, 31 de enero
¡Martes, 31 de enero es una noche de recaudación de fondos Holt en MOD Pizza en Coburg Road!
Usted puede apoyar nuestra recaudación de fondos con comida para llevar, entrega, o pedidos para recoger. Solo traiga el volante de MOD Pizza Fundraiser cuando ordene.
Para hacer su pedido visite el sitio web de pedidos en línea de MOD Pizza. Utilice el código de cupón "MODF18241" y el 20% del precio de su comida será donado a la Escuela Primaria Holt.
Calendario Escolar Propuesto 2023-24 Comentarios
El Distrito Escolar 4J de Eugene quiere conocer su opinión sobre el calendario propuesto para el año escolar 2023-24.
En particular, la escuela comenzaría antes de lo normal, antes del fin de semana del Día del Trabajo, con los niños de kindergarten, sexto y noveno grado a partir del miércoles, 30 de agosto, y el resto de los grados de regresar el jueves, 31 de agosto, en virtud de la propuesta. Las vacaciones de Acción de Gracias se ampliarían a tres días, del 22 al 24 de noviembre. Los días no lectivos para las reuniones de padres y profesores de los grados K-8 se celebrarían los días 20 y 21 de noviembre.
Fechas clave propuestas:
– NUEVO Primer día de clase: 30 de agosto para los grados K, 6 y 9; 31 de agosto para todos los demás grados.
– NUEVO Conferencias de Padres y Maestros / No hay clases (Grados K-8 solamente): 20-21 de noviembre
– NUEVO Vacaciones de Acción de Gracias: 22-24 de noviembre
– Vacaciones de invierno: 18 de diciembre al 2 de enero
– Vacaciones de primavera: 25-29 de marzo
HAGA CLIC AQUÍ para dar su opinión.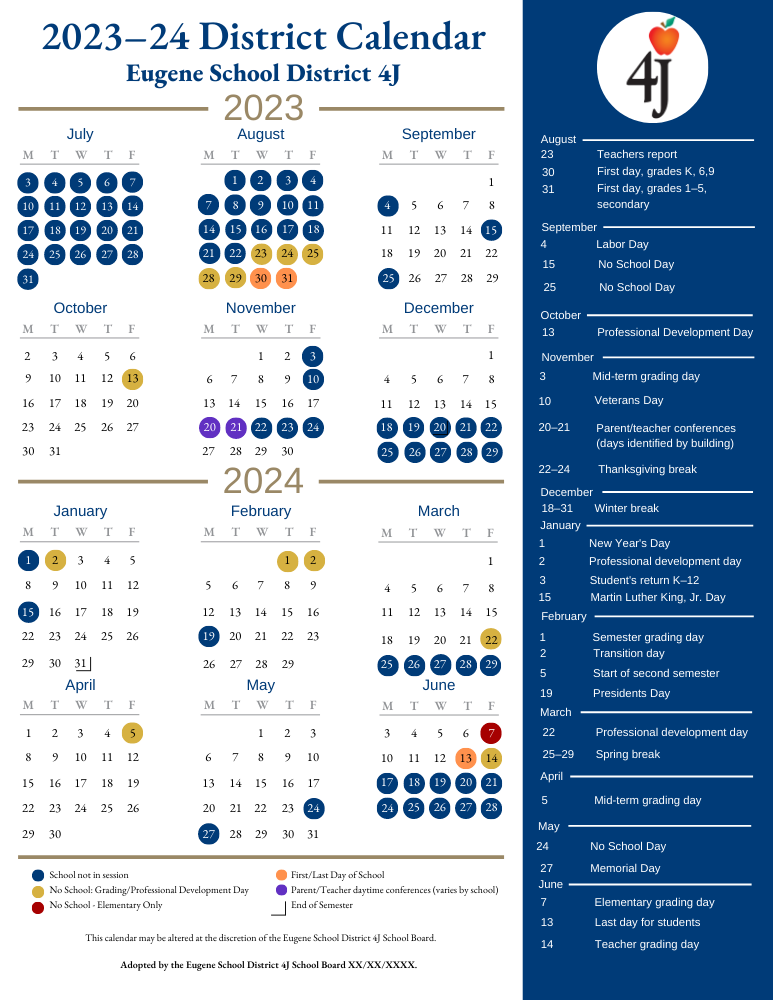 Nada de Crocs en el colegio, por favor
Los Crocs vuelven a estar de moda, pero no son un calzado seguro y pedimos a los padres que no envíen a sus hijos al colegio con ellos. Son motivo de preocupación:
– Carecen de soporte para el arco – Los Crocs ejercen una presión adicional sobre la fascia plantar, un ligamento grueso que va desde el talón hasta la parte delantera del pie. La fascia plantar actúa como amortiguador y sujeta el arco del pie, por lo que si usas a menudo zapatos sin sujeción en el arco, es posible que acabes desarrollando una fascitis plantar.
– No sujetan el talón – los Crocs no sujetan ni controlan el talón, lo que puede provocar dolor de talón y tendinitis. La falta de sujeción puede dificultar el mantenimiento de la estabilidad y aumentar las probabilidades de tropezar o caerse).
– Pueden provocar sudoración e irritación – Los Crocs están hechos de plástico y, aunque tienen agujeros de drenaje, el plástico puede hacer que los pies suden, en algunos casos, provocando irritación y afecciones en los pies (y pies malolientes).
Los Crocs están bien para trabajar en el jardín, hacer tareas domésticas o ir al cine, pero no son recomendables para los niños.
Según Healthline, "los niños deberían llevar un calzado más protector, ya que pueden lesionarse fácilmente si llevan Crocs mientras corren. Los Crocs no tienen lo necesario para controlar el talón, sujetar el arco y mantener la estabilidad."
Notificar los casos positivos de COVID a la Oficina
Las familias deben seguir notificando al personal de la oficina de Holt si sus estudiantes Holt pruebas positivas para COVID.
Pueden dejar un mensaje en la línea de asistencia al (541) 790-6111 o en la línea de la oficina principal al (541) 790-6100, informándonos cuándo comenzaron los síntomas, lo que determina las fechas de cuarentena.
REPETICIÓN: ¡La recaudación de fondos de PAHS School Cents TRIPLICA PUNTOS!
Compre, cene, disfrute de servicios o vea una película en Valley River Center, luego envíe sus recibos para ayudar a su escuela a ganar de $200 a $2,500. School Cents funciona desde el 1 de octubre de 2022 hasta el 31 de marzo de 2023. Las escuelas ganan al menos cinco puntos por dólar gastado en Valley River Center. Aceptan recibos en la tienda, en línea con recogida en la acera, comida para llevar, entrega a domicilio o cena en el restaurante. Envíe los recibos a https://shopandlog.com/VRC
GANE EL TRIPLE DE PUNTOS. Gane puntos extra al comprar en Bath & Body Works, Body Shop, Cotton On, Elephants Trunk, Fuji Japanese Steak House, Harry Ritchie's, Hot Topic, Panda Express, Round 1 Bowling & Amusement, Texas Road House. Los puntos de bonificación se aplican a las compras fechadas y presentadas entre el 16 de enero y el 28 de febrero de 2023.
DONA COMIDA PARA GANAR PUNTOS. Del 19 al 22 de enero: Traiga artículos no perecederos a beneficio de FOOD for Lane County al Model Railroad Show. Sube una foto mostrando los artículos donados y gana 100 puntos por artículo. Hasta 250 artículos por escuela. Las fotos deben mostrar todos los artículos para ganar puntos. Acceda a un formulario para enviar su foto en el sitio web de School Cents antes del 1/31/23.
ENVÍE RECIBOS A LA OFICINA DE HOLT.  ¿Tiene recibos que le gustaría que PAHS envíe por usted? Déjelos en la Caja de School Cents en la Oficina Principal de Holt.
REPETICIÓN: ¡Sea un Asistente Educativo Sub en Holt!
¡Ven a formar parte del equipo de Holt como asistente educativo suplente! ¿Quiere ayudar en el jardín de infantes, ayudar en el recreo, o enseñar a grupos pequeños? ¡Aplique hoy a través de la Bolsa de Substitución de Asistentes Educativos del 4J! ¿Tiene preguntas o quiere que su solicitud sea acelerada? Envíe un correo electrónico al director Allan Chinn en chinn@4j.lane.edu
Menús de desayuno y almuerzo
Los menús de desayuno y almuerzo están disponibles en el sitio web del menú 4J.  Asegúrese de filtrar a Holt Elementary.
Fechas para recordar
Más fechas en la página web de Holt en el calendario familiar
1/26, 6:00-7:00, Presentación y Recorrido de Elección de Escuela (Biblioteca y Zoom)
1/26, 5:45-7:15, Serie de Educación para Padres – Noche de Disciplina Consciente para Padres (Biblioteca)
1/27, Holt Spirit Day – 80's Day/Neon Day
1/31, Recaudación de fondos para Holt Night Out – MOD Pizza
2/3, No hay clases – Día de calificaciones
2/9, 5:00-6:00, Reunión del Consejo Escolar (Biblioteca)
2/9, 6:00-7:00, Reunión PAHS (Biblioteca)
2/20, No hay clases – Día del Presidente
2/22, 6:30, Noche de Proyecto de Expertos de 4to Grado (Gimnasio/Cafetería)
2/23, 6:30, Noche de Herencia Cultural de 3er Grado (Gimnasio/Cafetería)
2/28, 5:45-7:15, Serie de Educación para Padres – Noche de Disciplina Consciente para Padres (Biblioteca)
¿Necesita una mano amiga?
Sólo tiene que rellenar el formulario de ayuda en línea, el formulario de abajo, o póngase en contacto con la coordinadora de recursos familiares de Holt, Felicia LaCuesta, en lacuesta_f@4j.lane.edu o llámela al (541)790-6174.
Envíe sus recibos del Valley River Center aquí: https://shopandlog.com/VRC